Firm Summary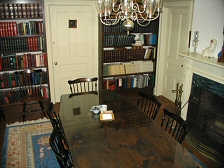 The Law Offices of Steven McHugh were founded on the premise of providing competent legal services at a reasonable price which emerging and established corporations, as well as the individual, could afford. Our offices are located in an old sea captain's house in historic Middletown Connecticut providing our clients with an atmosphere of old New England charm.
Our offices are equipped with state of the art technology to ensure that our clients receive the best quality services available. We are able to provide our clients with value-added intellectual property representation by having a profound understanding of our clients' business and technical issues through responsive and thoughtful client interaction.

The practice areas of the firm include all areas of intellectual property law, including patent, trademark, copyright, trade secret, license agreements, technology transfer agreements, intellectual property portfolio assessment and management, preliminary/formal opinion drafting, unfair competition and antitrust.
Our technical expertise includes electrical/electronic systems, nanotechnology, telecommunications, medical instrumentation, optics, optical imaging systems, microscopy, holography, LASERS, computer hardware/software, mechanical systems, metallurgy, chemistry and material science. To date, our clients include numerous large international corporations and smaller sized companies as well as individuals.